Public speaking is an amazing tool that can be used to create, heal, kill, redeem or condemn en masse. As part of my studies of human interactions I have become a student of public speaking. Last year I came across this unattributed quote saying: "To learn and never be filled, is wisdom; to teach and never be weary, is love." There is much truth in the statement, as much as there is in the saying: The best way to learn is to teach.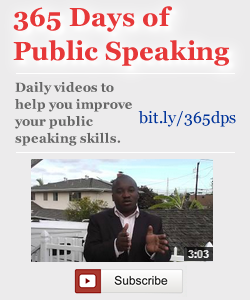 When this year started I decided to commit to do something daily to share my experiences on public speaking and help those who might be at an earlier stage in the process of becoming great communicators and excellent public speakers, just like myself. That's what drove me to start a YouTube channel.
I had tried daily writing before but could not stick to my daily schedule because I was allowing life to distract me. Yes, I take full responsibility for falling short. But inspired by Darren Lacroix's "YouTube It" gift to me, I decide to use videos rather than writing. It has been working well so far. I have not yet skipped a day and even when I did, I made up for it. The videos are short in length and I believe provide value to the viewers. Aware of the fact that there is always room for improvement, I am now open to receive feedback to make things better and produce a work that will be much more valuable to my audience.
Subscribe to the 365 Days of Public Speaking channel here: www.bit.ly/365dps
What are some of the ideas and suggestions you have for me to produce more valuable content for those who are always looking for way to improve their public speaking skills?