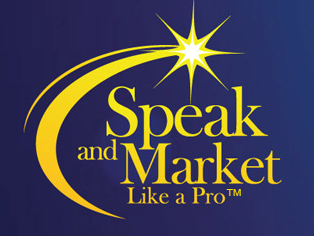 Do you sometimes feel like you must be paid for giving valuable advice and sharing your experiences through public speaking? Or maybe you already get paid for speaking, either as a speaking professional or as a professional speaker and wants fresh ideas that will help you increase your current fees? The Orange County Speakers Bureau is one of a group of professional and aspiring professional speakers who meet once a month to help one another improve their skills and share experiences. The March monthly meeting was a special event. The bureau hosted Sheryl Roush for a two hour educational session on Speaking and Marketing Like a Pro.
Sheryl was worth every single minute of my time spent at the workshop. I learned new things that will help me position myself better in the professional speaking arena. The objective of this post is to share my notes from the evening. This information is relevant for both professional speakers and public speakers who want to improve their skills and make (more) money speaking.
Here is the essence of what Sheryl delivered:
Use different but professional and purposeful photos for your marketing material, including website and flyers.
Always tell the audience who you are and how you relate to them.
Thing big. Develop the mindset of someone who can and will speak to thousands of people, sharing your message.
People want to take you home with them. Always provide audience members with a way for them to take you home. You can do that through books, CD's, DVD's, handouts, promotional flyers, and the like.
Be driven by service to your audience, not money. Think specifically on how you serve the needs of your audience with your message.
Conduct a self-assessment or self-evaluation (possibly with a coach or another professional) to uncover skills you have that might help you enhance the delivery of your message.
Always focus on delivering a specific message to your audience.
Take time to learn new skills and new things, but also take time to practice and apply what you learned.
Protect your original and authentic ideas and materials with trademarking and copyrighting.
Don't write a speech, brainstorm a message.
Work on your speech delivery backward. Start with the end and work backwards from there.
Network effectively and you will be able to learn how to command higher fees.
When you don't have to, don't memorize a script. Even if you do, don't be scripted.
Have a conversation with your audience members. Engage them and allow them to engage you.
End the presentation where you began. Complete a full circle.
Don't name your speech. The message will reveal what it wants to be called.
Record yourself every time and listen to yourself speak. Most people sound different when they speak and they don't know.
Be who you are, your authentic self, on and off the stage.
Remember that your audience wants to play with you.
You must develop the right mindset as you work on developing the skill set.
Everything about communication is RESPECT.
Meet your audience members where they are. Use their language and terminology.
Seek first to understand before being understood. If you were in your audience member's sits, what would you have wanted to hear?
Tailor your presentations for the specific group you will address as much as you can.
Always exceed expectations.
Your marketing material needs to look as good as you want to be.
When designing a flyer, your message should be so compelling that your prospect has no objection to calling you.
On your marketing material ask questions that name the pain of your prospects.
Don't speak just to hear yourself talk. Always remember to speak to deliver a compelling message.
Evolve. Everything about marketing is an evolution. You might have to re-package your brand a few times in your speaking career. That's a good thing when done right.
If you have a website, your one-sheet must be downloadable from the home page.
If you live in Orange County or Southern California and want to learn from a veteran of professional speaking, Sheryl has a few workshops coming up. Visit her website for her calendar and event schedule: http://speakandmarketlikeapro.com/event-schedule/. As I always tell audiences I speak to, the different maker between achievers and non-achievers, top performers and average performers, is action. Let me go start implement what I learn.
Before you act on the information above, which one of the nuggets is your favorite and how do you relate to it?