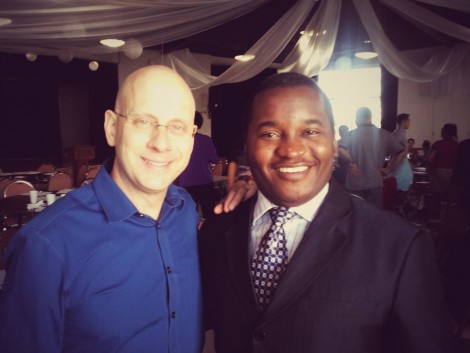 Have you ever had the dream of sharing the stage with someone that you respected and admired? Has that dream come true? How did that make you feel? I would bet really good. That is the experience I had on March 7th, 2015 at the Founder's District Marketing Workshop. Back in January 2014, I published an article titled: "Top 10 Professional Speakers to Share the Stage With." As you might have guessed already, Darren Lacroix is was on my list.
One of the reasons why he was on my list is because when I first experienced him on stage in 2013 at the Orange County Speakers Bureau, he was relatable… and funny. Moreover, he appreciated my enthusiasm sharing about a successful failure of mine, and gave me one of his video products for free. There is a video of my review of that product here: My first video following up on "YouTube it!". Darren is a Certified Speaking Professional, and the 2001 World Champion of Public Speaking.
If emceeing an event and introducing Darren to the audience for a presentation counts as sharing the stage with him, then indeed I have shared the stage with Darren Lacroix. Thank you for the opportunity, Jason.
There are 9 more people on my list and I am now very confident I will be on stage with them soon.
Dreams do come true. Live well. Pursue your dreams.