Toastmasters International is the leading organization in the world for helping people develop better communication and leadership skills. One dream for over 20,000 members of Toastmasters International every year is to take a shot at, and hopefully win the World Championship of Public Speaking. The contest is 75 years old and last year's (2012) winner was Ryan Avery. Ryan is the youngest ever Toastmaster to have won the championship.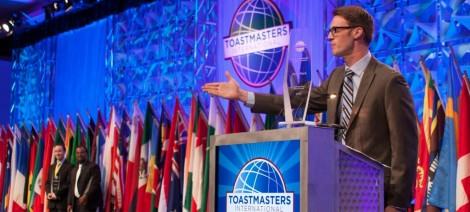 Ryan currently has a tour with his consultancy firm "How to Be a Speaker" and last Tuesday (11/5) he and his team were hosted by the Founder's District of Toastmasters International in Orange County. As I experienced him, Ryan is a great speaker and based on how much work he put in his preparation to win the World Championship, I am not surprised he came out as winner. In his own words, he trained like a champion and used effectively used visualization.
Ryan's presentation was around the following three major points: Keep your speech simple, make it impactful, be relatable. For those who could not attend the event, below are some of the lessons that were shared by Ryan during his 2 hour presentation on "How to be a Speaker":
Keep your speech simple. Simple always wins.
Your audience doesn't learn through bullet points, they learn through stories.
Make effective use of repetition throughout your speech.
Keep your stories related to the main theme of your speech.
You cannot be the hero of your own story. Let someone else give the the lessons you share with your audience.
Speakers are the channels between the message they carry and their audience.
Have a constant object that helps you link parts of your speech.
Turn the paragraphs of your speech into poems. It is easier to remember the lines of a poem than the lines of paragraph.
Include strategic words and expressions to engage all the 5 senses of your audience.
Drop the props, paint pictures in the mind of your audience. That engages the audience better.
Speak in active voice, subject + verb + noun. For example: "John kicks the ball" instead of "The ball was kicked by John."
Don't tell the audience what happened. Tell the audience what is happening. They already know it was in the past. When you use the present tense to tell the story, they become part of it.
Drop your excuses, chase your dreams. America is the best country in the world for opportunity creation.
Know why you do what you do, regardless of what it is that you do. If your why is big enough, your how will take care of itself.
Find people who can help you get to your destination.
Before anyone else believes in you, you have to believe in yourself and your dreams.
Train like a champion.
Never tell a joke again, share your personal failures instead.
Share valuable lessons that you learned from your family. Most people can relate to your family.
Practice how you will play.
There are enough average people in the world, be exceptional.
Your message and your voice matter. Spread your message.
Ryan is great speaker and considering how young at heart he is, I am excited about what the future holds for him. I would not hesitate in recommending him to anyone who wants to improve his ability to communicate more effectively. Thank you Ryan!
Your turn to write. Which one of Ryan's nuggets of wisdom above is your favorite, and why?