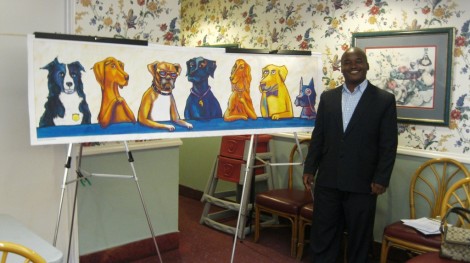 Every Monday morning I wake up at 5:00 a.m. to go meet with a group of exceptional people, mostly business owners and working professional, the OC Toasters. OC Toasters is the name of the club, one of the best Toastmasters International club in Orange County. Today's meeting was different than usual for two reasons: 1) I was officially installed as Vice President (VP) of Education for the club for the period July 2013 to June 2014. And 2) we were treated to a very educational and fun presentation by Doug Bowers, an experienced speaker serving as current Treasurer of the Founder's District in Toastmasters International.
The VP of Education is the second in command at the club level and I am looking forward to performing my duties as VP Education with enthusiasm and excellence. I took note of a few key points during Doug Bowers' speech and I want to share them with you. Doug was sharing what he has learned so far as he continues his journey to become a professional speaker and member of the National Speakers Association. Here we go:
To be a speaker, you have to know something. It is best if you are an expert, but you don't have to be. All you need to be know enough about your speech topic to create value for the audience.
Speakers speak. You have to get on stage and speak as often and as much as you possibly can. Every opportunity you have to speak should be taken up and considered golden. You never know who will be in the audience with the potential to refer you for your next speaking opportunity.
Seven minutes speech, two key points max. This is one I particularly love. In alignment with the remark my friend Brian Adams made during the last Orange County speakers bureau meeting: too many speakers overwhelm their audience with information. If you give a seven minutes presentation, limit your information to two major points and do everything else within that time to reinforce those points.
Get creative with your presentations. In the picture above, I pose next to a prop Doug brought to the meeting for his presentation. On the image there are seven pictures of different dogs and the dogs each represent a different personality type. Doug even has a social game he has created to help people understand their personality types.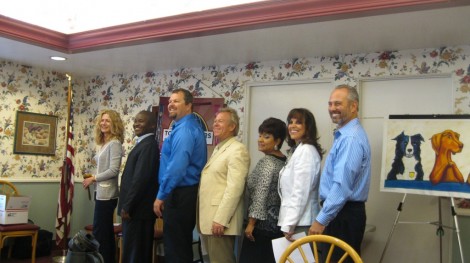 As I look forward to next Monday morning morning, I am excited and grateful to be part of such a great group. Throughout the week and beyond, I will be apply what I learned today and will be ready again for a new learning experience next Monday morning. What is your favorite piece of advice from the list above and why?