For the past two years I have hosted the Speak To Win Business Conference. It is an conference designed to provide working professional and entrepreneurs with tools and techniques they can use to improve their communications, which will lead to better relationships and better business. The idea for the conference came up when my friend Quinn Ruffin and I were brainstorming on ways to create a program that will be of value to the people in our community.
We started by asking ourselves the question: "What is one problem we can solve that we can help people by solving?". The answer was effective communication. We decided to create a full day program that would be offered to a target group we had to define, and to make the experience as valuable as possible for the attendees, we invited other speakers who were great communicator to share their knowledge and experience from the stage with our audience.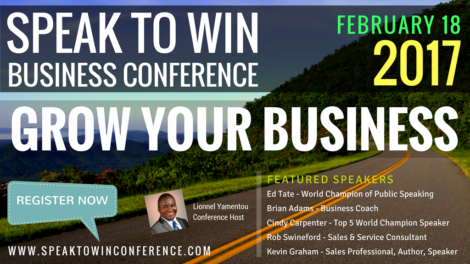 The first conference was in 2015, and in 2017, the third edition will take place. I have learned a lot from the process, and I think every speaker, author, coach or other professional service provider should host at least one event yearly. Below are the top 3 reasons why:
1. You get exposure to qualified prospects for your business
The target audience for your event will ideally be prospects for your business. Your existing clients must attend for sure, and will attend if they are invited. Possibly have a referral program for your existing clients and have them bring a few friends for free. I have personally had fruitful and great connections with prospects for my speaking and coaching business from my conference. You can do the same. All event participants will be signed up to your emailing list, increasing the pool of potential buyers for what you have to offer.
2. You develop a new skillset
I have seen authors and speakers like @brendonburchard host very successful events, in addition to being great writers, and coaches. What particularly fascinates me about Brendon is that he runs an empire with a very hands on approach. He has had to master productivity and top performance to do so and still succeed at such a large scale. You will stretch and grow tremendously from hosting a conference to serve your audience.
3. You potentially develop a new income stream
From admission tickets, I did not generate any profit from my first conference, and I barely broke even on my second iteration. However, beside admission to the conference venue, you can generate revenue from sponsors, sale or recorded sessions, (lifetime?) online only access to conference material. Chandler Bolt of Self-Publishing School has successfully held and generated thousands of dollars from his Self-Publishing Summit event, exclusively online.
Hosting your first of next conference will be a good business move, long term. You can contact me and we can talk about how to get you started with the planning and implementation process for your conference idea.
You are welcome to join me and my audience at my next Speak To Win Business Conference: http://www.speaktowinconference.com