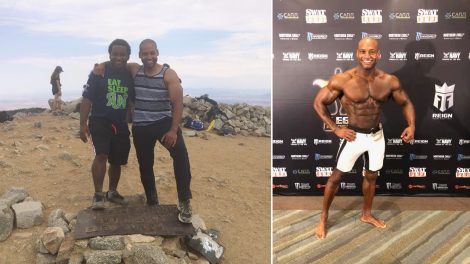 On August 21st, 2016 I went on my second hike to Mount Baldy. A few days before I had enlisted my friend Ezra to come along for the hike. I had told him we were going "hiking." He and I were completely unprepared (as you can see from our outfits on the left) to reach the top of the mountain at 10,046 ft (3,062 m). If you are considering conquering Mount Baldy in the future, note that is a "mountain climb," albeit a relatively small one, not a "hike".
Ezra is a personal trainer, actor, leadership coach, and today, professional body builder among other occupations he engages in. When we started the journey to the top, he set himself up as the leader and me as the follower. It is natural and feels right to follow when you are in the presence of a good leader.
Climbing a mountain and reaching the top reflects the journey of life. We all start at the bottom as babies. Through the years we watch and learn from people around us. Many have made the choice, conscious or not to stay at the bottom where many live well and do not yearn for more. That's a valid choice if made in full awareness of all the options available.
Others can't help but keep looking up at the sky and when the clouds clear they catch a glimpse of the summit and start dreaming and envisioning what it is like to be up there! That's how every journey to the top begins, with a glimpse or a feel of how better life at the top could be.
That day in August 2016, we didn't plan on getting to the top, but we were such good company to each other that the rough climb to the top felt more enjoyable than rugged.
When was the last time you looked up and got inspired? Are you comfortable at the bottom of the mountain? For those who have decided to go for a hike, are you in good company?