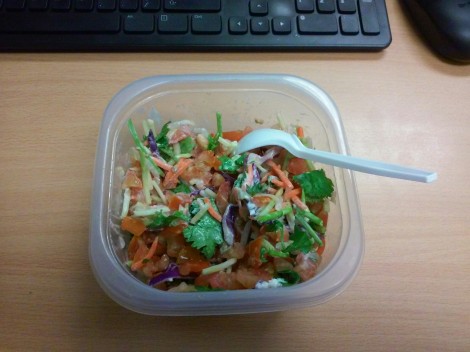 the experience was immensely rewarding. When a few weeks ago my sister told me she was in the process of fasting for 30 days and well beyond the first 10 days, I felt intrigued. When she went past the third week and was enthusiastically sharing the benefits and transformations she was experiencing, I though to myself: "If she could do it, I sure can do it too." After all, it is just about deciding to pass on food, right? Nope! I tell you, it is more than just passing on food.
On Sunday 9/28, I decided to take the challenge: spend 7 days without eating anything. The only thing to pass through my mouth was to be water, cold or warm, with no added substance except lemon fruit juice. Monday was relatively easy, and I drank well over 1 Gallon of water. Tuesday afternoon, I gave up! I went to a the local Subway store close to my workplace and got myself a foot-long sandwich loaded with veggies.
What happened? My body was craving not necessarily food, but anything sweet. In the first place, underlying my decision to fast were three major reasons:
Normalizing my weight (yes, I am officially overweight)
Overcoming my sugar addiction (very few people are NOT addicted to sugar)
Engaging in deeper and better meditation (which I am recently beginning to enjoy more and more)
I kept drinking lots of water throughout Tuesday, even after breaking my fast. Did I mention I also got a few cookies along with my Subway sandwich? I know, the sandwich on its own was bad enough. The cookies really signified that there was no hope for me to resume fasting on Wednesday as if nothing had happened, so I decided to go veggies (+ cookies) only for the rest of the week.
On Wednesday afternoon, after spending the day without eating anything, I went down to a Fresh & Easy store and bought myself a set of 4 different vegetables, vegan mayonnaise and vegan sausage. I ate only crazy mixtures of vegetables for the rest of the weekdays (including today), and I proudly passed on offers to eat food containing any animal products.
In addition to changing that about my food intake, I also exercised more than usual every day after Tuesday. My daily exercise routine is usually 2 to 3 miles walk in the park, but this week I included 25 minutes intense workout based on Shaun T's revolutionary program: T25.
What did I get from this failed experiment?
Exercised more and enjoyed it. I plan on keeping the 25 minutes exercise routines part of my daily plans.
Suppressed my craving for soda drinks. I have not drank anything else than water since Monday, not even coffee.
Discovered a wide array of healthy eating options outside the traditional meat-based diet I was on. I will now stay away from any form of "animal" meat in my food intake.
Enjoyed meditating a bit better. It is easier to meditate on an empty stomach. Because then you have more control over the direction of your body's energy. It is not caught up in servicing your digestive system.
In conclusion, I think I will make every Monday my food-free day. Next, work on overcoming my cookies (sugar?) addiction for good!
Have you ever failed at fasting? What did you learn?