Within the course of a lifetime, the average adult in America will earn about $2,000,000 dollars. Which means most people in America get to be millionaire, but they just don't have all the millions at one time. The Millionaire Next Door in America is your next door neighbor living a particular lifestyle, and having a different perspective on life and money. As part of my continuous growth and development, I just finished attending the millionaire mind intensive seminar, a 3 day program organized by Peak Potentials. Peak Potentials is the training company owned by author of the #1 New York Times , Wall Street Journal and USA Today Bestseller: Secrets of the Millionaire Mind, T. Harv Eker.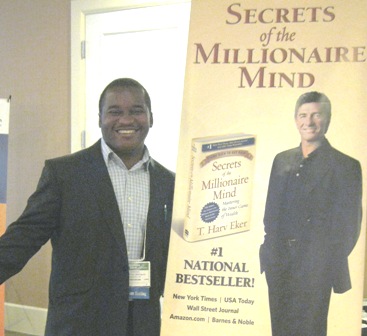 My attendance to the seminar was not an accident, just like every other aspect of my life, and yours too by the way. It started when I gave a presentation to a Toastmasters club about how to make a million dollars in 6 months, the principles anyone can use. At the end of the presentation, one of the audience members  asked if I had read the book above and when I said no, she promised to give me a copy. I read the book and at the end of the book, there was a coupon code to attend the Millionaire Mind Intensive for free. I signed up immediately after reading the book.
The speaker for the 3 day program had us verbally sign a confidentiality agreement, therefore I cannot share much about the content of the seminar. What I will say on the other hand is this: THE SEMINAR IS A GREAT EXPERIENCE!!! Totally worth it. If you have read the book and would like to get more information about how to determine what your money blueprint is and how to remove those buried emotions that are holding you back from reaching your full potential and making all the money (millions) you should be making, go to this seminar. In the interest of full disclosure, I attended only the Friday (full day) and Sunday (morning) sessions, but I am completely satisfied and happy I made that seminar a priority.
The speaker I experienced is excellent and has been leading this seminar for years. He is also a great salesperson, which anybody dreading (or loving) sales can learn from. He was simply awesome. If you heard about the Millionaire Mind Intensive and are thinking about whether to commit your time to the experience, stop thinking and signup for the event. The worst thing that can happen is that you will meet awesome people with great energy that will inspire you by their desire to learn, grow, and improve their lives. You will (depending on how involved you are) also make a few new business connections, which doesn't hurt.
If you have already been to the MMI seminar leave your comments in the box below for future readers of this post. What are your thoughts about the seminar, how was your experience?